Frequently asked questions
What if I'm Claustrophobic?
---
Some people with extreme Claustrophobia have reported having no problems with floating! Unfortunately we have experienced condensation when the float door is open, so it must remain closed. You can leave the light on and stay in for only as long as you feel comfortable. You are totally in control and we want you to have the best float possible. Feel free to call us to have a chat about your options. Check out our resources page for more info on overcoming claustrophobia for floating.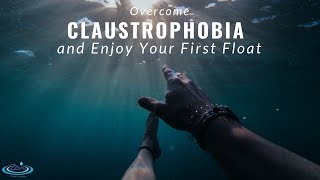 ---
How Do You Ensure the Water is Clean?
---
We've installed a completely new, upgraded, commercial filtration system that circulates the entire amount of water in the tank in a couple of minutes, to ensure the water you float in is as clear and clean as possible. It's actually the cleanest water you'll likely ever be in! ​ Our upgraded filtration system contains the following; ​ A powerful, commercial-grade Haywards SVRS pump, yet one of the quietest and most economical pumps on the market; A Haywards C110S cartridge filter that filters out any particles in the water larger than 10 microns (0.01mm); A commercial-grade ultra violet disinfection system, rated for use in drinking water systems. A significant body of scientific research has proven UV light's ability to inactivate an extensive list of pathogenic bacteria, viruses and protozoa. UV offers a key advantage over chlorine-based disinfection, due to its ability to inactivate protozoa that threaten public health – most notably Cryptosporidium and Giardia1. UV treatment is increasingly being used in drinking water filtration systems. UV treatment doesn't work on its own so we manually add hydrogen peroxide (at a 35% concentration) to the water in the float tank. This has been shown to work well as a sanitiser with a UV system, and provides residual protection during your float. ​ Whilst we are confident that just ONE cycle through our upgraded filtration system will result in clean water, we run the filtration system for FIFTEEN MINUTES between each float, turning the water over up to four times - so you can be assured that the water you float in is as fresh, clean and safe as we can make it. Finally, we also ask that all of our customers shower before entering the float tank, which helps to keep the walls of the tank clean for the next customer.
---
Will I Get Bored?
---
Most likely not, most people go in to such a state of relaxation the hour passes by very quickly. However if you are somebody who struggles to relax, remember we have plenty of options for different things to listen to distract our mind. Remember floating is about letting go of thoughts, not stopping them. Sometimes I have my greatest and most innovative ideas in the tank!
---
Where Are You Located?
---
Our business is located at our home in Gordon, the address is 18 Mina Wylie Crescent Gordon 2906. We have a stand alone Float Studio in our backyard which can be accessed without coming through the house. People are often surprised when they arrive to see what an amazing set up it is, hiding out the back! There are signs located on the path and at the entrance to ensure you enter correctly and we've tried to make it as obvious as possible.
---
How Do I Book?
---
Bookings and payments for all services provided by Floating Roses are made through an integrated third party application, "Float Helm" which utilises "Authorize.net" as its secure payment gateway. This is a link to book: https://floatingroses.floathelm.com/booking, you can also reach this page by clicking 'book now' on any of our pages. Clicking this link does not lock you in to a float, you have a few opportunites to cancel or back out. Please call us if you've accidentally booked the wrong time or have any troubles. You can either head straight to our Booking Section and choose a time that suites you, this will then take you to a page where you can either log in if you've booked with us previously or create your own account, then it will take you to payment where you can add any discount codes in (e.g firstfloat our first float deal @ $50). You can also go in to our "Packages" sections, purchase a package and then when you go to book your time, the pre-paid package will automatically apply to your booking. If you have any questions or problems with booking, don't hesitate to call us on (02) 6101 4676, email us at contact@floatingroses.com.au, fill in the contact us form on our contact page located on this website, or message us on facebook! Whichever is easiest. We also can book you in manually over the phone, we'll just need a few details to make you an account.
---
How Often Should I Float?
---
Single and first floats can be profound. However, there can be a bit of a learning curve requiring a few floats to feel totally comfortable. Also, floating has powerful cumulative effects and is becoming recognized as an essential part of an optimal ongoing wellness practice. Basically, floating 1 to 2 times per week will supercharge your long term physical, mental, and spiritual health. Remember, most of the studies done on benefits from floating, the subjects float once a week, so if you are looking to help with a specific ailment, the more the better.
---
Where Should I Park?
---
There is ample street parking available.
---
Why Should I Float?
---
Floating reduces stress, promotes relaxation, improves sleep and gives you a chance to unplug and fully recharge.
---
Should I Eat or Drink Before I Float?
---
A light meal about 90 minutes before your float will ensure you are neither full or hungry. As for liquid, hydrate normally in such a way that you won't need a restroom break mid-float. Stop drinking Coffee at least two hours before your float.
---
Will I Get Wrinkly from Being in the Water that Long?
---
No, the high salt concentration prevents this. It will leave your skin feeling quite soft and smooth.
---
What Do I Bring?
---
We provide shampoo, conditioner, body wash, towels, body lotion and earplugs. You may wish to bring a hairbrush, comb, sunscreen, deoderant or anything else you might need that we do not provide.
---
I Don't Swim, Can I Still Float?
---
That's okay, you will still float and the water is shallow enough that you do not need to know how to swim.
---
What if I have Cuts or Scrapes?
---
It may sting for a few minutes and then should settle down. However if you'd rather not feel the sting you can cover the wound with patroleon jelly and this should help seal it.
---
What About Tatoos or Piercings?
---
As long as they are full healed, not recent or infected, you'll be fine!
---
I'm Pregnant, Can I Float?
---
Absolutely! Floating is safe during pregnancy, feel free to consult your health care provider first, especially if in third trimester.
---
What if I have my Period?
---
Wear a tampon, menstral cup or period bikini bottoms, and enjoy your float!
---
Can I Float after Colouring my Hair?
---
We recommend waiting at least a week after colouring hair.
---
Can I Float with Another Person?
---
You can float in the room next to another person, but our tanks aren't big enough for two!
---
Can Children Float?
---
Floating is safe for children, however it might not be appropriate for children of all ages. Please consider whether it is suitable for your child at their current age. You will be required to be in the float room for the entire time and sign a waiver on their behalf. Please call us to discuss further.
---
Do I have to wear Earplugs?
---
No, this is a personal preference. At Floating Roses we love the enviroment and discourage the use of one use products, however we understand some people NEED them, so for those we have them available but please consider the enviroment, re-use the same one for a few floats if possible. Thank you :)
---
What if I wear Contacts?
---
You can leave them in while floating or bring something with you to put them in.
---
Why Must We Shower Twice?
---
Before you float, you take a quick shower to remove body oils and products. After, you shower to remove the salty residue from your skin and hair.
---
Should I Wear a Bathing Suite?
---
You do not have to. The rooms are completely private and locked. To get the full benefits it is recommended that you are completely naked, however we understand for some people this may not be comfortable, so please wear bathers if you want to.
---
What if I Fall Asleep?
---
Awesome! 1 hour of sleeping in a float tank can equal 4 hours of sleep, it's a great way to catch up on some shut eye for people who struggle to sleep. Also, because of the high salt content, you will float completely safely whether you're awake or asleep. If you fail to wake up when the alarm goes off we have another alarm, and if that fails the pump should wake you as it's quite loud (It's safe to be in the tank when it comes on, kind of like a Jacuzzi!)
---
What Float Tanks Do You Use?
---
Our tanks are from Zen Float Co. They have learned a ton about the challenges of floating and have taken that knowledge and used it to build their best product yet, the NEW inflatable Zen Float Tank. ​ The Zen Float Tank is revolutionising how people experience the benefits of floating. It takes on an entirely different design, made from state-of-the-art drop-stitch technology and it's fully inflatable, unlike the original Zen Float Tent or any other tank on the market. ​ The new Zen Float Tank brings everything they've learned into one amazing product and we can't wait for you to experience it! ZEN FLOAT TANK: DESIGN ​ Their new inflatable design looks fantastic right out of the box. Form & Function Zen Float Co made sure it looks great in any room and this float tank is the sexiest on the market whilst still being functional. Shape They went with their signature pyramid design for the shape of the Tank because it allows condensation from the warm-water to run down the sides and back into the tub, preventing water from dripping off the ceiling and interrupting your float. ​ Size They also made the Zen Float Tank slightly larger than their original Float Tent, adding about 15cm of extra space to both the length and sides. This has resulted in a 28% increase in space from the original Tank, with more head room and more room to float. (233 x 114 cm) Weight: 80 kg Liquid capacity: (682 L) if filled 10" (25 cm) high Length: 300 cm Width: 145 cm Height: 196 cm ​ Material Zen Float Cos new tank is fully inflatable and made from drop-stitch technology, similar to inflatable stand up paddle boards and kayaks. Drop-stitching combines tens of thousands of finely woven threads connecting two pieces of polyester fabric. Each thread is evenly spaced between the two pieces of fabric, locking the unit into place and creating a sturdy and rock-solid inflatable product. ​ Insulation The inflatable design helps with insulation due to all the layering, making it 40% more efficient. This helps to keep the tank and water warmer for longer. ​ ZEN FLOAT TANK: FEATURES Quality & Convenience There are a handful of elements that go into creating the perfect floating environment and they've all been incorporated into the design of the new Zen Float Tank. ​ Precise water temperature control ​ The Zen Float Tank comes with 2 radiant heating pads and a digital temperature controller that ensures your water is at a comfortable, consistent temperature of 34.5 celsius. ​ Energy Efficient ​ Floating Roses sourced the newest and most energy efficient products for our filtration system and our hot water is solar generated. Most of our electricity is also generated from solar panels on our roof. All of this combines to keep our carbon footprint low and contributes to our aim of being the most environmentally friendly Float Centre in Canberra. ​ Reference: https://zenfloatco.com/home-float-tank
---
What Shampoo Body Wash and Conditiner is Offered?
---
We Use: Shampoo - EnviroCare Sensitive Body and Hair Cleanser A sensitive version of body & hair cleanser for a gentler clean without stripping the skin & upsetting the pH balance. Made with luxurious coconut ingredients without any added fragrances or dyes it transforms into a gentle & delicate foam, cleansing without drying out skin. ​ Ingredients: Purified Water, Coconut Betaine*, Coconut Oil Acids*, Sodium Cocoyl Glycinate*, Fatty Acid Isethionate Sodium Salt* (Based on Coconut Fatty Acid),Tocopheryl Acetate* (Vit-E- antioxidant), Olea Europaea Oil* (Olive), Benzyl Alcohol & Salicylic Acid & Glycerine & Sorbic Acid* (Preservative), Ascorbic Acid* (Vit C), Citric Acid*
*Plant Based Biologika Coconut Conditioner Organic Coconut Oil has been added for its natural nutritional properties. It helps in Healthy Hair growth, providing them a shiny glow, and it has a conditioning effect whilst helping in the repair of damaged hair. This formula is suitable for all hair types, and gentle for every day use. Enriched with organic ingredients and FREE from: Sulphates, Animal Ingredients, Artificial Fragrances and colours, Parabens, Mineral oils, Mineral Phosphates and Bleaching and brightening agents. Ingredients: Organic Herbal Blend of Lavender, Nettle & Burdock; Biodynamic Avocado Oil, Organic Coconut Oil, Organic Aloe Vera, Vitamin E, Wheatgerm Oil, Natural Cetyl Alcohol, Natural Cetearyl Alcohol, Organic Birch Extract, Organic Jojoba Oil, Guar Gum, Citrus Seed Extract, coconut absolute oil, Olive Leaf Extract, Potassium Sorbate & Citric Acid ​
---
Are You An Eco Friendly Business?
---
We try to be! Here are some of our efforts: The Building Even before building, we knew we wanted the most sustainable and eco friendly building we could find and Eco Villas was the perfect fit. They are a part of DESIGN CONSTRUCT INDUSTRIES PTY LTD group, committed to providing affordable, innovative, adaptable, eco-friendly & user-friendly methods of construction. They have created a building that allows our hot water system to be solar powered as well as much of our electricity. ​ Our Shampoo and Conditioner is sourced in bulk from Natural Health Organics A quote from their website "We support organic farming where possible, we respect our environment and make a conscious effort to re-use and recycle in our day to day operations" You can read more about them here: Link Cleaning Products The cleaning product we use in our rooms is 100% Australian owned and manufactured brand 'Koh', it is independently eco-certified by Good Environmental Choice Australia (GECA). The Universal Cleaner is an ionic formulation of exclusively potassium mineral salts and purified water. The active ingredient is less than 0.5% potassium minerals. You'll find no nasty chemicals or toxins here! We also buy in bulk to avoid as much excess packaging as possible. ​ After each float our floor is mopped and vacuumed with our Cross Wave which only requires water, and we spray the floor with Koh beforehand to ensure all bacteria is thoroughly removed and dis-infect with a Hydrogen Peroxide Solution. We also add essential oils to our mix to for an extra health boost and beautiful smell. Research During all of my research to source the most environmentally-friendly products instead of using google I used ecosia, a web-search program which plants trees for simply searching on the web! I've planted 1317 trees so far just from researching different products and information. I plan to continue using this web search engine and supporting this websites amazing endeavours. ​
---
---