Relax, Recharge, Feel as
Light as a Rose Petal.
What is floating?
Floating is commonly referred to as Floatation Therapy or Sensory Deprivation. It involves lying in a float tank containing a highly concentrated Epsom salt solution (between 500 to 800Kg of magnesium sulfate) which creates the buoyancy to float effortlessly. The water is heated to skin temperature of approximately 34.5 degrees Celsius, so after a while the sensation of your body dissolves while you feel weightless.
​
​
Float Therapy May Help With...
Chronic Pain Management & Relief

Stress Release & Relaxation

Improved Sleep Quality

Improved Mental Focus

Regulation of Blood Pressure

Optimised Physical Conditioning
Do You Suffer From?
Pain & Inflammation

Anxiety & Depression

Interrupted Sleep

Brain Fog

Hypertension or Migraine Headaches

Athletic Fatigue
A Family Run, At Home Business, Giving Canberra The Ultimate Floating Experience.
Located in Gordon.
At Floating Roses we have two Float Therapy rooms, Oasis and Pearl. You book online through our "Float Helm" application, which allows you to choose your preferred time and day. You can also purchase gift cards, packages and memberships online. Please refer to the "Prices & Packages" or FAQ section of our website for more details.
​
What to Expect:
You will arrive at our home, 18 Mina Wylie Crescent Gordon and park on our street. You will then follow the directional signs to the rear of the building, and ring the reception bell on the back door. Pearl will take you to your float room and guide you through the amenities, how to set up music (if you want it) and answer all your questions. Once on your own you'll take a shower, to make sure your body is as clean as possible, before stepping into the float tank naked (or in a swimsuit if you feel more comfortable) . You'll then lie back, adjust your body to find the position that's right for you, and allow your body to become one with the water. You will remain here for an hour with silence, music or a guided meditation - you will probably be surprised just how quickly that hour goes by. At the end of your float Hannah's recorded voice will come over the speaker, guiding you back to reality. Once the recording ends it's time to carefully get out of the tank, have another shower to wash off the epsom salts, and you can then either leave or stay for a chat and a tea. Some people will feel profound effects after their first float, for others it can take 3-5 floats.
In-Room Facilities
Private Shower / Private Toilet / Hand Basin / Organic Shampoo & Conditioner / Organic Body Wash & Lotion / Ear Plugs / Hair Dryer / Intercom / Towels / Neck Pillow / Heating & Cooling / iPod & Speaker / Meditations & Music / Hand Cream / Sanitiser / Fire Extinguisher / Fire Blanket / Relaxing Decor
Floating Roses - Founded by a Mother and Daughter Duo!
​
Floating Roses Story
Hannah suffers with chronic neck and back pain and Float Therapy is one of the only treatments which helps her, but she realised that most people hadn't heard of it, or were hesitant to try due to long-standing Floating myths. So Floating Roses was born with the aim of getting people from all walks of life using Float Therapy to ease their pain, stress and sleep issues.
​
About Hannah
Hannah's a singing teacher and musician who loves to dance! She is into all things holistic and shares healthy living tips on our Facebook and Instagram. She designed, developed and manages our website, social media, advertising and admin. She uses her extensive float experience to make your float the best in Canberra.
​
About Pearl
Pearl is Hannah's mum and she floats to help her arthritis and all the other aches and pains that come with age. She likes to relax by playing online games like Midnight Castle, and watching her favourite character, Dean Winchester, battle demons in "Supernatural". She loves to go walking around Point Hut Pond, though she'll often be out and about on her e-bike as well, so say hi if you see her! When you arrive at Floating Roses it will usually be Pearl's friendly face that greets you. Pearl handles all of the cleaning, so you get 'Mum clean" every-time you float (she gets most of her long list of cleaning tips from Facebook group 'Mums that clean'!)
I had my first float here today. I wasn't sure what to expect but I was very impressed by the well thought out and designed space. Also Pearl was extremely welcoming and provided an excellent run down of how everything works. I feel positively amazing "post-float" and will definitely be back soon.
I was fortunate enough to receive a "test float" here this afternoon.
I've had a number of floats at different facilities over the years so I couldn't wait to try it out. I loved this experience. The main difference is the tank. It's a teepee shape instead of a pod. It didn't feel as enclosed and the air was nowhere near as humid.
I've also just realised, my neck feels amazing! I didn't realise how tight it was?
I'm meant to know these things.🤦🏽‍♀️
Get ready Tuggeranong. They'll be opening soon. Just don't everyone book in at once. I need my appointment spot too! 💦💧
- Kasia Taylor, Remedial Massage Therapist
I tried the float tank this afternoon and it was incredible. I chose total silence, but they did have music ready to go if I wanted. Pearl was very welcoming from the start and had everything ready to go and easily explained the process. I came out very relaxed and my muscle tension, which is part of my fibromyalgia, was noticeably lessened
Frequently asked questions
How Do I Book?
---
Bookings and payments for all services provided by Floating Roses are made through an integrated third party application, "Float Helm" which utilises "Authorize.net" as its secure payment gateway. This is a link to book: https://floatingroses.floathelm.com/booking, you can also reach this page by clicking 'book now' on any of our pages. Clicking this link does not lock you in to a float, you have a few opportunites to cancel or back out. Please call us if you've accidentally booked the wrong time or have any troubles. You can either head straight to our Booking Section and choose a time that suites you, this will then take you to a page where you can either log in if you've booked with us previously or create your own account, then it will take you to payment where you can add any discount codes in (e.g firstfloat our first float deal @ $50). You can also go in to our "Packages" sections, purchase a package and then when you go to book your time, the pre-paid package will automatically apply to your booking. If you have any questions or problems with booking, don't hesitate to call us on (02) 6101 4676, email us at contact@floatingroses.com.au, fill in the contact us form on our contact page located on this website, or message us on facebook! Whichever is easiest. We also can book you in manually over the phone, we'll just need a few details to make you an account.
---
Where Are You Located?
---
Our business is located at our home in Gordon, the address is 18 Mina Wylie Crescent Gordon 2906. We have a stand alone Float Studio in our backyard which can be accessed without coming through the house. People are often surprised when they arrive to see what an amazing set up it is, hiding out the back! There are signs located on the path and at the entrance to ensure you enter correctly and we've tried to make it as obvious as possible.
---
Will I Feel Claustrophobic?
---
Many people with extreme Claustrophobia have reported having no problems with floating! Unfortunately we have experienced condensation when the float door is open, so it must remain closed. You can leave the light on and stay in for only as long as you feel comfortable. You are totally in control and we want you to have the best float possible. Feel free to call us to have a chat about your options. Check out this video for more info about Claustrophobia and floating.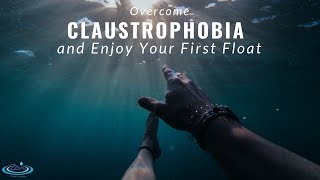 ---
How Do You Ensure the Water is Clean?
---
We've installed a completely new, upgraded, commercial filtration system that circulates the entire amount of water in the tank in a couple of minutes, to ensure the water you float in is as clear and clean as possible. It's actually the cleanest water you're likely to ever be in! ​ Our upgraded filtration system contains the following; ​ A powerful, commercial-grade Haywards SVRS pump, yet one of the quietest and most economical pumps on the market; A Haywards C110S cartridge filter that filters out any particles in the water larger than 10 microns (0.01mm); A commercial-grade ultra violet disinfection system, rated for use in drinking water systems. A significant body of scientific research has proven UV light's ability to inactivate an extensive list of pathogenic bacteria, viruses and protozoa. UV offers a key advantage over chlorine-based disinfection, due to its ability to inactivate protozoa that threaten public health – most notably Cryptosporidium and Giardia1. UV treatment is increasingly being used in drinking water filtration systems. UV treatment doesn't work on its own so we manually add hydrogen peroxide (at a 35% concentration) to the water in the float tank. This has been shown to work well as a sanitiser with a UV system, and provides residual protection during your float. ​ Whilst we are confident that just ONE cycle through our upgraded filtration system will result in clean water, we run the filtration system for FIFTEEN MINUTES between each float, turning the water over up to four times - so you can be assured that the water you float in is as fresh, clean and safe as we can make it. Finally, we also ask that all of our customers shower before entering the float tank, which helps to keep the walls of the tank clean for the next customer.
---
Will I Get Bored?
---
Most likely not, most people go in to such a state of relaxation the hour passes by very quickly. However if you are somebody who struggles to relax, remember we have plenty of options for different things to listen to distract our mind. Remember floating is about letting go of thoughts, not stopping them. Sometimes I have my greatest and most innovative ideas in the tank!
---
---
Floating Roses – Covid-19
You cannot Float if you are quarantined or should be self-isolating.
Please do cancel if you are feeling unwell (no cancellation fee applies)
All rooms will be disinfected between floats, including the tanks, inside and out.
Please help us by minimising touch points as much as is practical, and feel free to use the supplied disinfectant and hand sanitiser as you wish.
During this period Floating Roses is no longer able to accept cash – all floats must be booked online and prepaid. Please call (02) 6101 4676 if you have any issues.
As far as is practical in our relatively small float rooms we will try to maintain the 1.5M spacing requirements with our customers, and ask for your assistance in doing so.
Mon - Fri: 9am - 10pm ​​Saturday: 9am - 10pm ​Sunday: 9am - 10pm
18 Mina Wylie Crescent Gordon
(02) 6101 4676